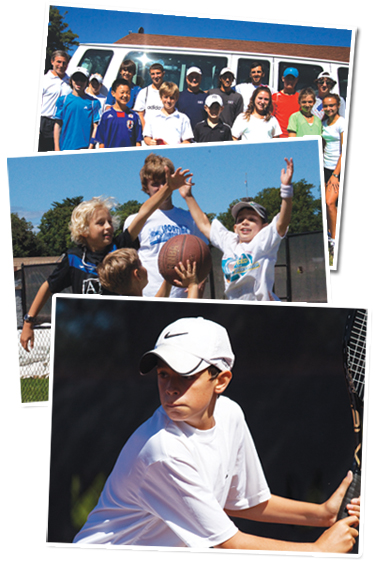 JUMP INTO SUMMER & SCHOOL BREAK FUN AT SPORTIME!
SPORTIME offers a wide variety of camps during school breaks, as well as exciting summer programs for children of all ages. Our multi-sport day camps include instruction in every popular sport and our pre-school programs are truly unique. We now offer elite sports camps for tennis, volleyball and roller hockey. High level instruction and first class facilities make SPORTIME summer camps the best in New York.
EXCEL TENNIS SUMMER CAMPS
EXCEL Summer Camp offers a uniquely challenging tennis training program for serious-minded junior competitiors. It is ideal for those interested in improving their skills and taking their game to the next level. Instilling confidence and pursuing excellence are a big part of everything we do at EXCEL. We turn weaknesses into strengths and strengths into winning matches.
MULTI-SPORT SUMMER CAMP
SPORTIME provides boys and girls, ages 3-14, the very best summer camp experience. Our Pre-School campers spend their days learning tennis, soccer, baseball, swimming, creating arts and crafts projects and participating in special events. Our young athletes in the Multi-Sport program spend their fun-filled days learning and playing tennis, basketball, soccer, hockey, baseball, swimming and more! Campers also enjoy a diverse and exciting calendar of special summer camp events.