JUMP INTO SUMMER FUN AT SPORTIME!

It is our belief that in order for children to learn, they must be placed in an environment that is safe, fun and challenging. Every one of SPORTIME's summer camps is based upon this philosophy. We offer children the finest in sports programming, experienced, qualified teachers/counselors and the safest, most attractive facilities. Our summer programs challenge a child's abilities, while enhancing his/her self-esteem and providing positive social interaction. Programs may vary at each camp location.
SUMMER CAMP STARTS SOON! >> We've got an amazing camp location near you! Click the location to the left to find out about each camp in more detail. We look forward to hearing from you.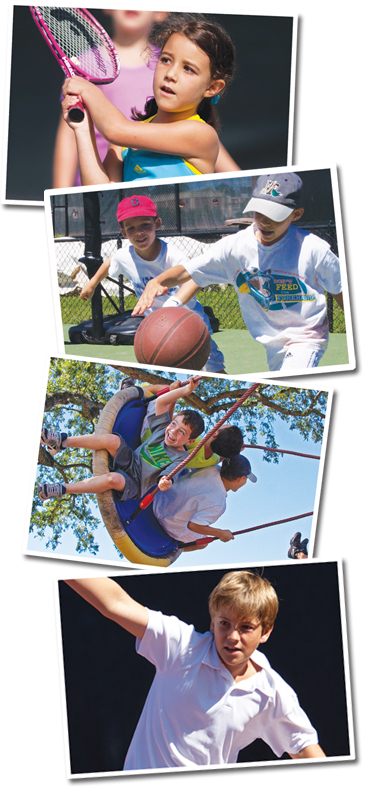 MULTI-SPORT CAMPS

SPORTIME Preschool Camps
Supervised by certified early childhood teachers and experienced assistants, your child receives personalized and loving attention in a safe and age-appropriate learning environment. The camp day includes professional tennis and swimming instruction and a variety of multi-sport lessons and games, plus arts and crafts and other traditional camp activities. Our Pre-School Camps are truly unique!
Junior Multi-Sport Camps
Our summer multi-sport curriculum offers campers instruction, recreation and friendly competition in a wide variety of indoor and outdoor sports, including basketball, tennis, floor hockey, soccer, volleyball, swimming, baseball and more. Multi-Sport campers also participate in exciting project adventure activities and cooperative games that challenge them to work together as teams to solve problems and achieve common goals.
EXCEL TENNIS AND TENNIS & SPORTS CAMPS
EXCEL Tennis Camps
We are very excited to present our premier summer tennis program for aspiring junior players. EXCEL training is fun and fast-paced, and features stroke production, competitive games, and tactical training for match play. We prepare our players for the physical and mental demands of competitive play with the use of innovative training techniques and by developing their self-esteem and focus. Our program is dedicated to turning weaknesses into strengths, and strengths into winning games.
Tennis & Multi-Sport Camps
SPORTIME Tennis Camps are designed for youngsters who want to focus their camp day on playing and learning tennis while enjoying multi-sport activities. Campers learn and perfect proper stroking techniques, participate in competitive drills and games, learn match play strategies and tactics and receive individualized instruction. Our curriculum and groupings are carefully tailored to the age and level of each camper.
ELITE SPORTS CAMPS

Volleyball
SPORTIME's Elite Volleyball Camp is specifically designed for players, ages 10 - 17, who want to raise their games to the next level, as they prepare for their middle school, high school or club volleyball seasons. Our expert coaching staff guides players through intense days of circuit training, team drills and game play.

Roller Hockey
The SPORTIME Elite Roller Hockey Camp offers young hockey enthusiasts, ages 6-16, a fun and intense summer hockey experience. Our expert coaches challenge players, based upon their abilities, with innovative drills and games designed to teach fundamental skills and