John McEnroe Tennis Academy (JMTA) for Ages 9 and Up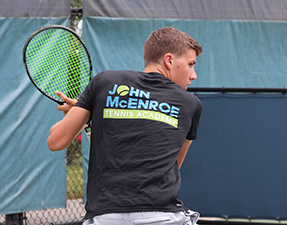 Qualified players are invited to join the John McEnroe Tennis Academy (JMTA), the area's #1 program for developing nationally and internationally competitive juniors. Conceived, developed and directed by John McEnroe and his world-class staff, including JMTA's Tennis Director Lawrence Kleger, Director of Performance, Richard-John Mensing, Jr., Director of Mental Performance and Toughness, Dr. Dom Lausic of the Hourglass Performance Institute, and JMTA Westchester and Long Island Annex Directors Fritz Buehning and Mike Kossoff, JMTA boasts players that have won titles at sectional, national, intercollegiate, international and professional levels.
At JMTA, we train 52 weeks a year. During every break in regular JMTA programming - winter, spring, summer, fall - we offer training camps for JMTA players so they don't miss a beat.
JMTA is available in Long Island, Manhattan and Westchester.
Click here
to find out more.
Fall/Winter 2017-2018 Session