| | | |
| --- | --- | --- |
| | | |
| | FIND OUT ABOUT ANOTHER SPORTIME LOCATION: | |
| | | |
SPORTIME RANDALL'S ISLAND, JMTA NEW YORK CITY

One Randall's Island, New York, NY 10035

Contact Club
SPORTIME Randall's Island Adult Tennis Kinetics (ATK) Group Programs
For adult players of all ages and levels.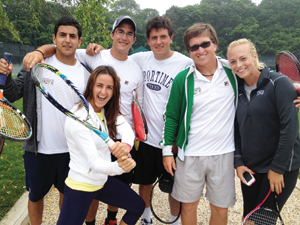 TENNIS KINETICS is an important component of SPORTIME's approach to teaching the sport of tennis. This philosophy is based on the belief that the best way to learn the skills needed to play tennis requires the development of the essential movement skills that relate to them. Players learn how to strike the tennis ball as part of a sequence of reactions and movements that begin when their opponents strike the ball. Having players develop and execute the entire sequence for every shot in the game accelerates the learning process, and players quickly become capable of combining these sequences to play successful points.
Program Benefits include:
ATK Launch Party:

All players enrolled in ATK programs are invited to join us for our ATK Launch Party, which, this year, will be virtual! Meet the SPORTIME/JMTA coaching staff and other ATK program participants. For ATK players who sign up after the Launch Party, or who are unable to attend, simply contact Jason or Carlos about getting rated. Keep an eye out for an Evite with details!

ATK Video Analysis:

Using video analysis software, a SPORTIME/JMTA Director will take video of you in action and tag feedback to your video clips. These videos will then be emailed to you and your SPORTIME private coach, if you have one. ATK players signed up for 34 weeks will receive a minimum of 4 videos during the season; those signed up for 17 weeks will receive a minimum of 2 videos during the season. Not included in ATK Competitive League.

ATK Dynamic Warm-Up:

Jumping out of a car and immediately onto the tennis court without warming up substantially increases the risk of injury. And while we have terrific athletic trainers and physical therapists on staff, we prefer that you not have to avail yourselves of their services due to injury! So, at the beginning of each ATK session, coaches will run players through a Dynamic Warm-Up, including stretching and other movements, designed by our Performance team, and based specifically on the curriculum planned for that day.
Check out our full ATK Program menu and for more information about specific programs, call our ATK Directors, Jason Shkodnik,and Carlos Bracho, at (212) 427-6150, or email them at
jshkodnik@sportimeny.com
or
cbracho@sportimeny.com
. Make sure to look for our upcoming Mixed Doubles parties, Round Robin mixers and other special events, which round out our adult schedule throughout the year.
ATK Instructional Doubles and Singles (All Levels)
Perfect for players of all levels, from beginners looking to learn the basics to advanced competitors looking to fine-tune their games. Players are grouped with others at the same or similar levels and focus on different components of the game each week, all in the context of positioning, movement, point construction and singles and doubles strategy. Coaches lead participants through a combination of skill-specific drills and competitive point play. ATK Instructional is guaranteed to take your game to the next level.



ATK After Work (All Levels)
Sweat away the stresses of the work day with this high intensity work out, including singles and doubles drills, competitive games and point play. After Work encompasses the full gamut of on-court training and coaching, to make sure that your tennis skills become as well-rounded and refined as your work skills!



ATK Boot Camp (All Levels)
This program is for players who want to get fitter, stronger, faster and mentally tougher! Our tennis and fitness coaches lead players through one hour of fitness and one hour of tennis-focused, dynamic training activities. Get a great work out, hone your tennis skills while under pressure, and have a blast. Get your boots on!



ATK Elite (Advanced Levels)
Using the "Games Approach", which is a key component of the John McEnroe Tennis Academy instructional philosophy, this intensive training program features challenging tennis games and non-stop movement for advanced players. Groundstroke games, volley games, approach-shot/passing-shot games - you name it, we play it - while coaches provide targeted, constructive feedback on technique, point construction, strategy and more.



ATK Elite College Practice (4.5-5.0 USTA/5.0-8.0 UTR Levels)
This high intensity college-style practice program for former college and other advanced players features advanced drills, point construction, strategy sessions, singles and doubles match play, integrated fitness drills, as well as mental toughness training. Get ready to go from good to GREAT college style!



ATK Competitive League and Interclub Matches
Those enrolled in one or more ATK programs, who want to hone their skills with competition, should join our Competitive League and Interclub Matchplay program, which includes a weekly practice session and dedicated matchplay coaches. Represent SPORTIME Randall's Island against other SPORTIME clubs, as well as against local competition, and show the region what SPORTIME RI tennis is made of!



| | | | | |
| --- | --- | --- | --- | --- |
| | | | | |