EXCEL Yellow Ball Programs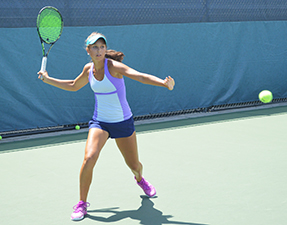 EXCEL Yellow is SPORTIME's program for the student dedicated to becoming the best player that he/she can be. At this stage of development, technical, tactical, emotional and physical skills are all essential to developing a skilled and confident player. EXCEL coaches are well-trained to adjust lessons and program emphases to meet the needs of each and every player. Their experience, advanced teaching skills and extensive knowledge in all areas of coaching ensure the success of our players.
Players in EXCEL Yellow are placed in appropriate group sessions based on playing level, age and stage of development. Sessions are predominantly "live ball," but we also use advanced drills when necessary and appropriate. SPORTIME's signature tactical games challenge each student's ability to formulate, plan and execute his/her own winning tactics and strategies. Our coaches focus on teaching students these "X's and O's" of how to construct points, while providing the technical corrections to help students execute their tactical plans. In EXCEL, we do not want to develop players who just have "pretty strokes" but cannot win matches. Our goal is to develop players who know how to compete and to win.