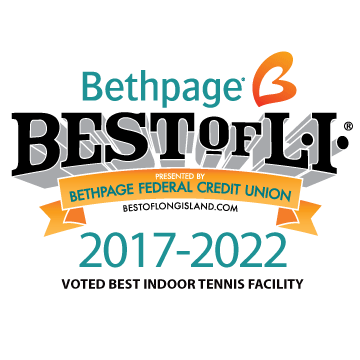 SPORTIME Syosset Tennis is the Long Island home of the John McEnroe Tennis Academy, the area's #1 program for developing nationally and internationally competitive juniors. Conceived, developed and directed by John McEnroe and his world-class staff, JMTA boasts players that have won titles at sectional, national, intercollegiate and international levels.
Conveniently located on Jericho Turnpike, SPORTIME Syosset Tennis & Multi-Sport services thousands of adult , juniors and under 10 members with state-of-the-art facilities including 6 Har-Tru and 5 Deco Turf Tennis Courts, 5,000 square foot multi-sport court and party room. Other amenities include lounge area, tennis pro shop, child-care room, full locker room facilities and more. Programs include:
Membership is required to participate in any SPORTIME/JMTA program series and Membership gives you exclusive benefits based on your membership type and monthly ones that all members enjoy. Please contact us by calling 516-364-2727, or emailing syosset@sportimeny.com, to find out more today!
"I am blown away by how Sportime has taken every precaution to ensure my kids' safety during this pandemic. From pickup and drop-off to ensuring everyone is wearing masks in the lobby to sanitizing stations to upgrading their ventilation system, I can rest assured when I drop my kids off at Sportime they're in the best care possible. Thank you Sportime!"
-Rachel Belkin, SYT parent