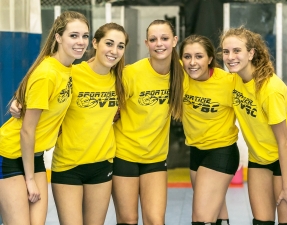 PLEASE NOTE: For the 2020-2021 Club Volleyball season, structured competitions including match play, local tournaments and travel tournaments may be not take place or may be limited due to the challenges presented by the COVID-19 virus.
SPORTIME VBC provides girls, ages 7-18, with a comprehensive training program designed to introduce the game in a fun, competitive learning environment, supervised by the best volleyball coaches on Long Island. Players of all levels train and compete with players of similar levels in an effort to prepare them for local and travel competitions.
We offer a wide variety of VBC programs for girls based on age, skill level, availability and financial resources. Please read below for detailed descriptions of every exciting program that we offer.
All VBC programs listed below require players to participate in a tryout process and to be selected to join a specific team or age group. (excluding clinics and lessons)