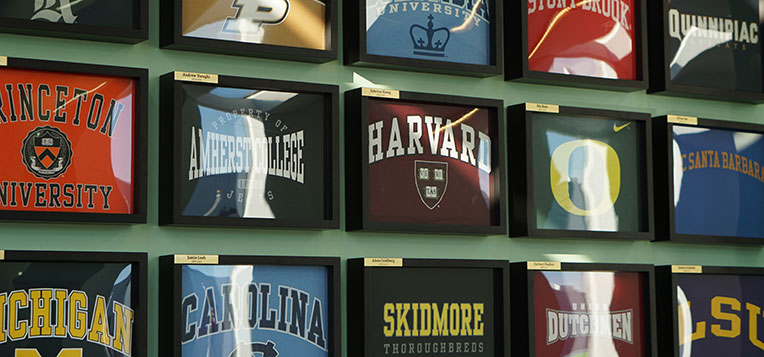 About the SPORTIME/JMTA College Placement Advisory Service
Trying to find the right college for a student-athlete, in the context of his/her academic and tennis profiles, and in an environment that is more competitive than ever from the perspectives of general admission and the limited number of spots available on college tennis squads, can be an overwhelming process. But don't despair, SPORTIME/JMTA is here to assist. With over 200 coaches company-wide, most of whom played Division I college tennis, SPORTIME/JMTA has unparalleled contacts within the collegiate coaching ranks. We use our contacts and our substantial experience in the college placement process to give SPORTIME/JMTA students an edge as they seek to determine the best colleges for them, procure scholarships and to gain admission to the schools of their choice.
SPORTIME/JMTA is very proud to have developed hundreds of players who have received full or partial scholarships or upgrades to top colleges and universities, including Yale, Harvard, Princeton, Wake Forest, University of North Carolina, UC Santa Barbara, Tulane, Columbia, Louisiana State University, Elon, University of Connecticut, Middlebury College, and many more, a few of which scholarships have allowed JMTA students to "bank" all four years of full scholarship by attending and playing a minimum of one year. This format is designed for a student who feels ready to take a shot at the pro tour prior to completing four years of college, while assuring the opportunity and wherewithal to then go back and complete his/her education at any time in the future.
JMTA provides basic, preliminary assistance to JMTA students approaching college age, to help them identify colleges that offer programs particularly well suited to their tennis and academic needs. More comprehensive college placement services, for example, assistance with detailed correspondence to coaches and follow-up communications, scheduling visits, creating introductory videos and more are available for an additional fee.
To find out more about the JMTA College Placement Advisory Service, please contact us at jmtacollege@sportimeny.com and we'll be happy to help.