| | | |
| --- | --- | --- |
| | | |
| | FIND OUT ABOUT ANOTHER SPORTIME LOCATION: | |
| | | |
SCHENECTADY

2699 Curry Road, Schenectady, NY 12303

Contact Club
Adult Tennis Programs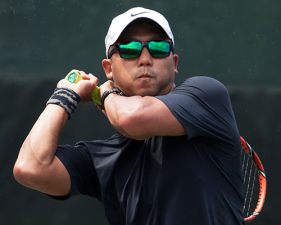 SPORTIME offers a complete menu of Adult lesson programming supervised by our certified tennis professionals. Whether you are looking for a great way to get in shape, learn the sport for a lifetime or play competitively, SPORTIME has something for you. Programs include Group Lessons, Cardio Tennis, The SPORTIME Zone, private and semi-private lessons and more.
For additional program information
click here
.
Major League Tennis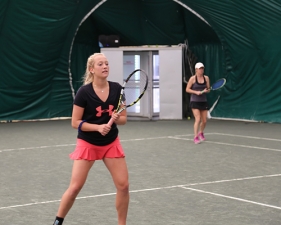 League tennis is a great way to exercise, to make friends and to enjoy competing against players at your level. We supply new balls for your matches, trophies at the end of the season, weekly standings and special events. We do all the work - you have all the fun. Singles, Round Robin and Fixed Doubles and Mixed formats available at all USTA levels. Leagues may vary at each SPORTIME location. New Members require court testing for league placement. Call and get in the game today!



Cardio Tennis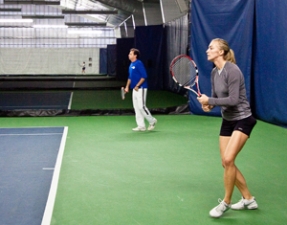 Step off the treadmill and onto the court with SPORTIME's Cardio Tennis. Participants improve their cardiovascular fitness and their tennis, while shedding pounds, making friends and having fun. SPORTIME coaches guide participants through a variety of fast paced drills and games that keep players' heart rates at fat-burning levels. Players of all levels are welcome.



Adult Learn & Play Lessons
USTA level (3 to 3.5). This program is designed for players who already have a little experience of the game. They want to improve their overall game, develop winner shots, and get more involved in competition and social events. Learn forehands, backhands, volleys, serves, scoring, then PLAY!
ATK Beginners
USTA level (from 1.0 to 2.5) For new players, with no or few experience of the game. They will be taught the fundamental technique to allow them to enjoy the game very quickly. Appropriate tennis balls, such as foam balls and intermediate tennis balls will be used to make sure they learn quickly and to make sure they can start rallying and most important, having fun.



ATK Elite
USTA level (3.5 and above) Designed for players who play on a regular basis and compete. These players are taught drills to emphasize their weapons and work on their weakness as well. High intensity clinic with a lot of game situation, patterns and shot making points.



| | | | | |
| --- | --- | --- | --- | --- |
| | | | | |