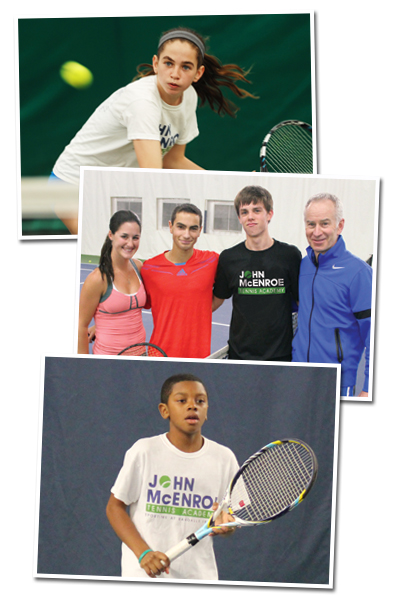 After waiting many years for the right opportunity, in September 2010, tennis legend John McEnroe launched the John McEnroe Tennis Academy in his hometown of New York City at the SPORTIME Randall's Island Tennis Center in Manhattan. Sportime Randall's Island is the flagship location for the Academy and for Sportime's 13 clubs. SPORTIME is Mac's partner in the operation of the instructional programs that bear his name.

John McEnroe and SPORTIME have assembled a talented staff of world-class teaching and fitness professionals, who have joined together to make John's vision of a New York based, non-residential tennis academy a reality.
The John McEnroe Tennis Academy exists to:
develop world-class players at the John McEnroe Tennis Academy
excite New Yorkers, especially kids, about the game of tennis
provide opportunities to motivated and deserving NYC area kids - young players who would not otherwise have the resources to reach their full potential as players and/or scholar-athletes
John McEnroe Tennis AcademyJohn's passion and belief is that great players can be developed in urban settings, while still having the opportunity to live at home, pursue their educational goals, and participate in a variety of sports and extracurricular activities. Through community outreach, the Academy will work to recruit the most talented and the most highly motivated young athletes in the Greater New York Metropolitan area and beyond.

In September 2012, the McEnroe Academy expanded its geographic reach to Sportime locations in Westchester and on Long Island: Sportime Lake Isle, a beautiful, 8-court outdoor club that Sportime has just spent $5 million re-building into a state-of-the art year-round facility in Eastchester, New York in lower Westchester; Sportime Bethpage in central Long Island, a 6-court indoor facility that has long been Sportime's high performance training mecca.

Under the guidance of Lawrence Kleger, Sportime's long-time Executive Director of Tennis, now the Director of Tennis of the John McEnroe Tennis Academy, and inspired by the vision and presence of Johnny Mac, JMTA has expanded its training programs and shared its world-class staff of teaching professionals and Assistant Directors with these new JMTA annexes in Westchester and Long Island. Coaches, including former ATP and WTA top 75 professional players Fritz Buehning, Peter Fleming, Hana Sromova and Martina Sucha,will join with Assistant Academy Directors Bruce Haddad, Nate Emge, Felix Alvarado and Cosmin Cotet to bring the Mac way to promising players from all over the greater NY area.


JMTA professionals will work as a team to deliver a training program that will assure the best possible outcome for serious junior players; a program that will enable JMTA players to make the most of their abilities, while supporting them in their academic pursuits and in living balanced, healthy lives.